MEGAMAN® MARCO Integrated LED Tracklight Combines Aesthetics with Excellent Functionality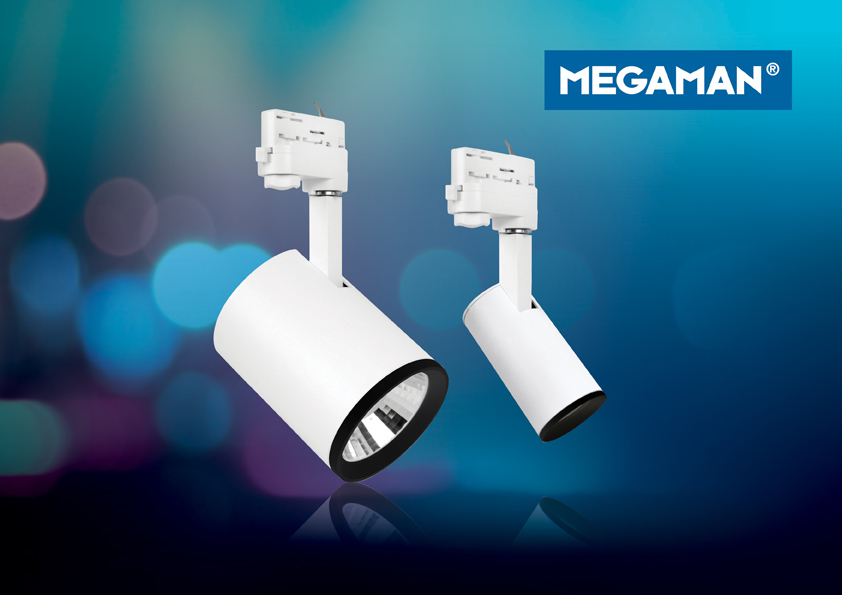 (Hong Kong – 12 September 2017) MEGAMAN® has expanded its portfolio of LED luminaires with the robust and versatile MARCO integrated LED tracklight. The new addition incorporates Hybrid Reflector Technology to offer superb beam control quality and creates a pleasurable customer experience which is absolutely critical to retail environment.
Available in high lumen packages from 1,000lm to 5,000lm, MARCO integrated LED tracklight offers high luminous efficacy, serving up to 50,000 hours of operating hours. Made with aluminium in white, silver and black colour options, the new series has a minimal yet sleek design in cylindrical hosing that houses a built-in driver. With an adjustable arm, MARCO allows 330° rotation and ±90° tilt angle, which are favourable for multi-directional lighting. Precise beam control can be achieved to create the most desirable highlighting effects for products, exhibits or displays. 
Colour quality has always been the key in retail lighting. Equipped with an Ultra RichColour option, the MARCO series delivers a superb colour rendering of up to Ra97 to optimize both the hue and saturation of colours, achieving a faithful colour rendering and consistency for retail applications.
MARCO integrated LED tracklight offers a wide choice of beam angles ranging from 12°, 15°, 24°, 36° to 45°, making it ideal for accent and ambient lighting in retail and hospitality spaces. Incorporated with the Hybrid Reflector Technology, the MARCO series could deliver enhanced beam control, efficacy and excellent optics. This innovative technology combines the best features of MEGAMAN®'s popular facetted reflector range with the total internal reflection of its optical reflector to provide a solution that performs even better than competing LED technologies.
An optional accessory of honeycomb louvre is also available for improved glare control. The result is soft, balanced light with minimal glare and visually comfortable spaces that reduce eye fatigue.
Offering exceptional flexibility in application and design, the MARCO integrated LED tracklight transforms retail spaces where broad spectrum lighting, precise beam control and soft visual balance are most important. The MARCO series is specifically ideal for applications such as shop lighting, hotels, showrooms, restaurants and museums. [More Details] 



About MEGAMAN®
MEGAMAN® is a global brand in high-performance, energy-efficient lighting and an innovative leader in LED and CFL lamp design, with technology targeting the best eco-lighting solutions. MEGAMAN® products are widely distributed throughout the world, including Europe, Asia Pacific, Middle East, Africa and South America, covering more than 90 countries and territories. By setting environmental management as one of the company's highest priorities, MEGAMAN® is focusing on eco-friendly environmental processes from initial design, to manufacturing, research and development, and the disposal and recycling of its products.
For more information about MEGAMAN®, please visit the website at
For further information, please contact:
Wendy Lam
Neonlite Electronic & Lighting (HK) Ltd. – MEGAMAN®
Tel: + 852 2378 0074         Fax: +852 2758 5957
Email: wendylam@neonlite.com.hk